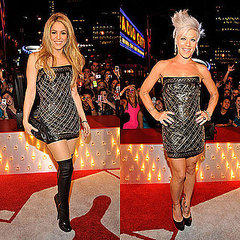 A lot of fancy footwork at the 2009 American Music Awards, which will go down in history for not one - but two -- celebrity spills: Adam Lambert's Olympic tumbling act and Jennifer Lopez's embarrassing stumble.

But there were also some fashion missteps on the red carpet and up on the stage.

Rihanna's mesmerizing Mummy bodysuit, Jennifer Lopez's blessedly padded Thierry Mugler mini- dress, Lady Gaga's "Alien" ensemble and Kate Hudson's Versace nip-slip dress come to mind.

Check out the Best and Worst of AMA the fashion and vote for who was hot and who was most definitely not.